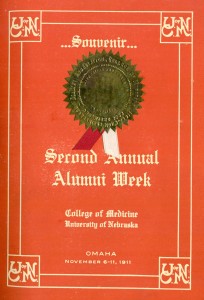 By John Schleicher
UNMC Alumni weekend is coming up October 2nd and 3rd. As those of us on campus today meet and greet alumni from years gone by, we can take note that events such as this have been going on for at least 100 years or so. What is not the same as in the past however is that alumni weekend was alumni week—the whole week—in the early years of the 20th century. The week-long event included a series of continuing education programs, lectures, clinics, and evening activities such as receptions and banquets. Just like today though, on Friday night there were individual class parties for each of the reunion classes. Those in attendance in 1913 included a who's who of well-known names from UNMC's history: Bridges, Cutter, Karrer, Poynter, Wigton, and many other familiar names from the early days of the College of Medicine.
The archives has proceedings of the alumni weeks from the 3rd, 4th, and 5th sessions, held in 1912, 1913 and 1914. Continuing education through clinics, lectures and conferences was stressed during the day, with clinics held at hospitals across Omaha, including Douglas County, Immanuel, and Methodist, because the University of Nebraska Hospital (now Nebraska Medicine) did not open until 1917. Evenings were set aside for various entertainments, including receptions, dinners, "smokers" (informal gatherings for entertainment and discussion), and special celebrations for various classes and fraternities. The Union Pacific and Burlington railroads even scheduled special trains to bring alumni from across the state into Omaha for the week.
To visit the UNMC archives, contact the Special Collections Department at 402-559-7094 to schedule an appointment or inquire at the AskUs desk on the 6th floor of Wittson Hall.