By Dawn Wilson
The summer isn't over yet! You can set aside those heavy textbooks, but that doesn't mean that there's nothing of interest for you at the library. These might not be your traditional "beach reads", but who says you can't be engrossed in a book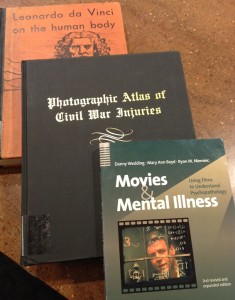 and learn something at the same time?
Your summer reading list at McGoogan might look something like this:
Movies and Mental Illness: Using Films to Understand Psychopathology by Danny Wedding – Explaining mental disorders using films like A Clockwork Orange, It's a Wonderful Life, and Kill Bill.
1 Dead in Attic: After Katrina by Chris Rose – Essays and articles on the year and a half following Hurricane Katrina.
The Three Christs of Ypsilanti by Milton Rokeach – When three patients suffer the same delusions, their caregivers bring them to the same mental health facility to see what happens when confronted by other men who think they're Christ.
The Toadstool Millionaires: A social history of patent medicines in America before Federal regulation by James Harvey Young – Hucksters, quacks, and the placebo effect.
Popular Medicines: An Illustrated History by Peter G Homan – Retrospective history of medicines peddled by chemists, illustrated with original full-color ads, tins, and bottles including Bile Beans, Lion Ointment, and Gripe Water.
Cows, Pigs, Wars, and Witches: The Riddles of Culture by Marvin Harris – Answers to some of the more eccentric questions in anthropology and sociology.
The Pit: A Group Encounter Defiled by Gene Church – What started like any other 1970's business retreat designed to teach bonding and leadership turns dark when the men in charge see how far people will go for a promotion.
Tulipmania: The story of the world's most coveted flower and the extraordinary passions it aroused by Mike Dash – Economic boom and destruction, caused by a flower.
Salem Possessed: The Social Origins of Witchcraft by Paul Boyer and Stephen Nissenbaum
Lewis & Clark: Doctors in the Wilderness by Bruce C. Paton, M.D.  – What medicine was available in the early 1800s during a wilderness expedition?
The True History of the Elephant Man by Michael Howel & Peter Ford
Medical Spanish by Gail L. Bongiovanni – Phrases and vocabulary.
Plagues and Peoples by William H. McNeill – Modern and historical diseases from the bubonic plague through Ebola.
Photographic History of Civil War Injuries: Photographs of Surgical Cases and Specimens: Otis Historical Archives by Bradley P. Bengtson, M.D. & Julian E. Kuz, M.D. – After the Civil War, patients were invited to Washington D.C. to have their healed injuries photographed.
Leonardo da Vinci on the Human Body: The Anatomical, Physiological, and Embryological Drawings of Leonardo da Vinci by Charles D. O'Malley and J. B. de C. M. Saunders – Copies of da Vinci's manuscript pages and drawings are included in this book with translations.