Ben Simon
Library Assistant II
Education & Research Services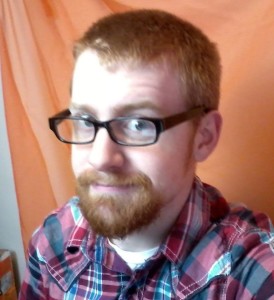 Tell us about your job in the library.
As a library assistant, my primary role is to man the circulation side of the desk. This includes helping patrons with all the basic library interactions; checking out, study rooms, finding books, library policy questions, and the occasional reference question. But lately, much of my time has been devoted to stacks maintenance. For this I've been taking inventory of every item in the library, weeding out those that are old and damaged, shelf-reading, and marking down the items that are missing. A full inventory hasn't been taken in many years, I've been told, so it's a task that's long overdue.
In addition to this project, I recently labeled all of the bookshelves and finished writing a new circulation training manual for new employees, with the help of Alissa.
When would you most likely meet or talk with me?
I'll be available a lot for the next week, because I'm covering Evelyn's vacation. So any time after 12:30 works for me.
What do you like about working in the library?
I love being a caretaker of knowledge, so-to-speak. While my first passion is fiction, I do have a huge appreciation for science. So being able to lead doctors and medical students to a vast database of scientific information is a great privilege for me. I also enjoy the quiet, academic atmosphere of libraries like this.
What do you like to do outside of work?
Like I said, my first love is fiction—and specifically fiction writing. I have a masters in writing and I'm currently trying to publish a few novels. I also write full time for a news website called the Inquisitr. And outside of that, I'm an amateur musician and a cat lover. But my most unusual hobby is creating/coding original digital pinball tables.