By John Schleicher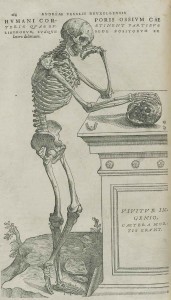 A new display, featuring Andreas Vesalius, is now available on the 8th floor of the library.  Andreas Vesalius (1514-1564), was born on December 31, 1514.  He was the leading anatomist of his day, professor at the University of Padua in Italy, and he corrected some anatomical misinformation from the ancients such as Hippocrates and Galen.  See a story on him here.
Vesalius' landmark work was De corporis humani fabrica libri septem (Seven books on the fabric of the human body), first published in 1543, with a second edition published in 1555.  The McGoogan Library owns a second edition, donated in 1959 by the estate of Goldie (Goddin) Potts, widow of John B. Potts, M.D, (1876-1948), Professor of Otolaryngology at the University of Nebraska College of Medicine from 1912 to 1937. He received his M.D. in 1907 from the College of Medicine.  According to a recent census in which we participated, there are 58 copies of the 1555 edition in 49 university and institutional libraries across the U.S.
Also on display on the 6th floor, behind the former reference desk area, is a two volume set, The fabric of the human body: an annotated translation of the 1543 and 1555 editions, by Daniel H. Garrison and Malcolm H. Hast, published in 2014.  This is a complete translation from the Latin, and facsimile of both the first and second editions which patrons can look through at their leisure.