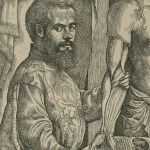 Andreas Vesalius, born December 31, 1514, in Brussels, was descended from a family of prominent physicians in city of Wesel in the Duchy of Cleves. As a young man, he studied medicine in Montpellier and Paris and later moved to Louvain to teach anatomy. After serving as an army surgeon in France, he moved to Padua in 1537, where he became a professor of anatomy.
In 1543, his famous De corporis humani fabrica libri septem (Seven books on the fabric of the human body) was published. That same year he was appointed as court physician to Charles V, Holy Roman Emperor and King of Spain. He later set out on a pilgrimage to Jerusalem, but while in Cyprus he was called back to Padua to take an honored chair in anatomy. He died on October 15, 1564.
Among other works by Vesalius, the library owns a second edition (1555) of De corporis humani fabrica, as well as a recently-published two-volume complete English translation of the 1543 first edition and the 1555 second edition.
For more information about the rare book collection, contact the Special Collections Department at 402-559-7094 or jschleicher@unmc.edu.