By Dawn Wilson
The library has replaced its lone public copier/scanner with a new, easy to use, multifunctional scanning station. The new scanner set-up might look a little complicated. After all, it's made up of four pieces instead of the one upright copier. But it's twice as fast as the old machine. Even better, there's an intuitive touch menu that allows you to crop, zoom, edit, rotate, straighten, and delete pages from a document. You no longer need access to Adobe Pro or photo editing software to put the finishing touches on your document.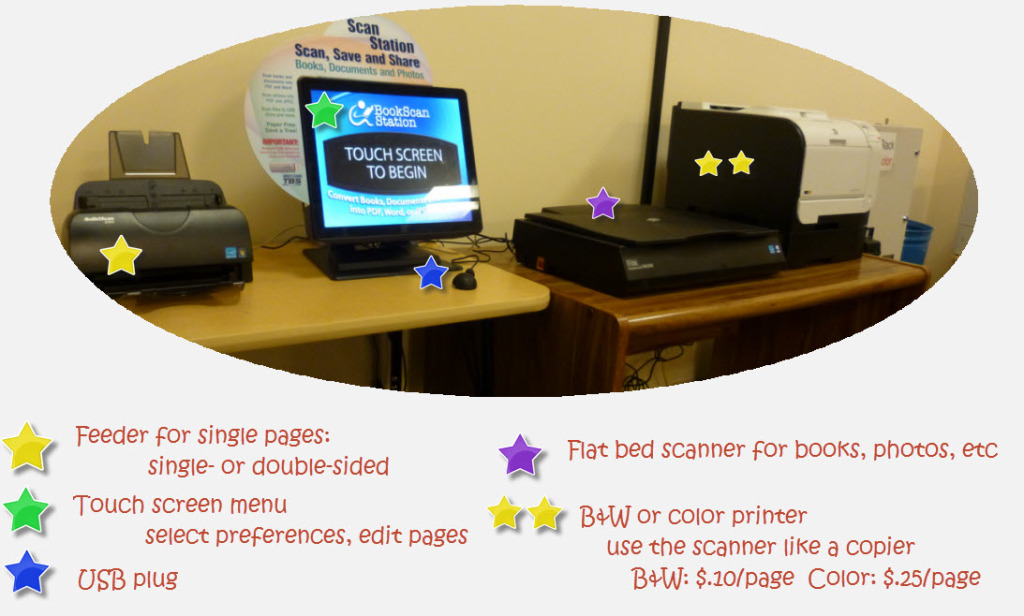 Five main options:
Scan to USB
Scan to email
Scan to printer (B&W $.10/pg; Color $.25/page)
Scan to smart phone/tablet (requires a QR code reader)
Scan to Google Docs
Five file format options:
PDF
Word
Searchable PDF
JPEG
TIFF
Printing options:
Black and White ($.10/page)
Color ($.25/page)
8 ½ x 11
8 ½ x 14
Scanning options:
Feeder for individual pages
Feeder does single-sided and double-sided
Flatbed scanner for books, photos, passports, posters, etc.
A few things to keep in mind:
The scanner is free, but printing the scans takes cash (coins or bills) only.
Scanning to a Smart Phone should be kept to only a few pages; scanning to email in color is usually limited to about 10 pages of color (20 pages of black and white).
Printing costs cannot be taken from your student account.
You cannot pull files off of a flash drive, so there is still no color printing available (just color copies).
When using the feeder, the print faces the wall.
Although you can copy both pages from a book or journal at one time, this scanner does not separate them into two pages in the file. So if you want to print more than one page from a book, it would be best to copy one page at a time. Otherwise the text will shrink when printing.
The flatbed scanner reads from the opposite corner as the old copier–look for the arrow at the front left.