Submitted by John Schleicher
On Tuesday, September 30, 1980, 20 University of Nebraska Medical Center College of Medicine students gathered at Henry, Nebraska, on the Wyoming border, at 6:40 a.m. to begin the 480 mile, "Run to 101."
The students, almost all of whom are native Nebraskans and in their second year of medical school, relayed an official Olympic torch across the state, from Henry to Omaha, to symbolize the statewide importance of the College of Medicine's first 100 years. The students covered approximately 80 miles per day.
Other students drove to a number of towns along the runners' route to talk to high school students on health career opportunities available at the University of Nebraska Medical Center.
Dinners were planned along the "Run to 101" route in Scottsbluff, Ogallala, North Platte, Kearney, Grand Island, and Columbus in honor of the College of Medicine.
The students arrived at the medical center campus on October 5, at 4:15 p.m. At this time the eternal flame of the centennial sculpture was lit.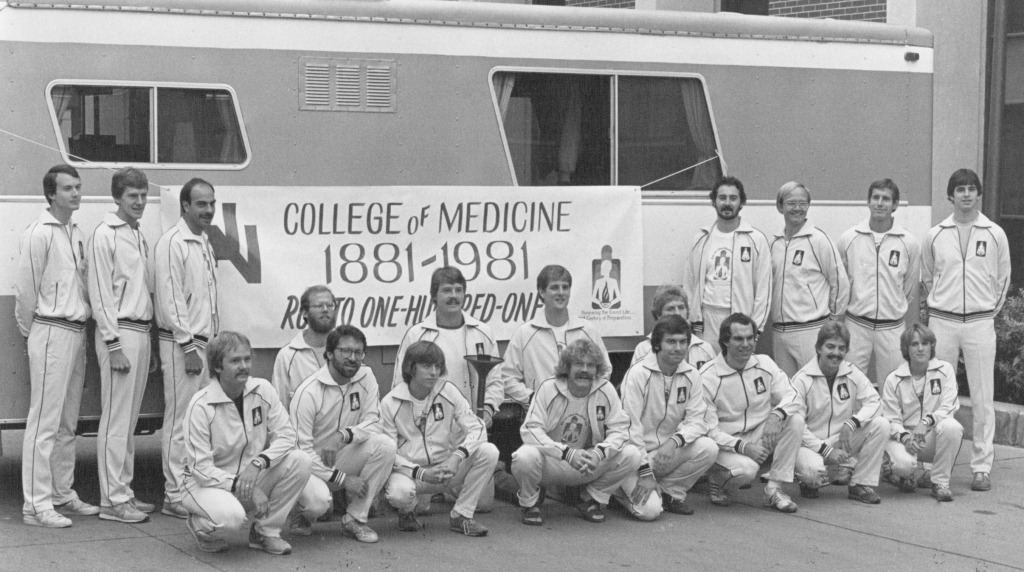 Front Row (left to right): John Lortz, Brad Rodgers, Kevin O'Dell, Dennis Bozarth, Garth Asay, Doug Treptow, Doug Ebers, Norma Jean Fuelberth
Back Row (left to right): Mike Murphy, Ed Fobben, Jeff David, John Skoumal, Doug Long, Jay Matzke, Richard McChane, Jerry Wolford, Scott Haswell, Scott Howe, Evan Blanchard.