Google Scholar is one of the search tools available to you among the many great resource tools McGoogan Library has in your information resource toolbox.
Save your search to re-run later:
Just copy the URL at the top of Google Scholar search results page and save it for later use.
Search the 'cited by' articles, too:
By clicking on the "cited by" link under a citation, you can check to see what articles cited your article of interest, and then search that collection for your terms.
Create alerts to keep up with new research on your topic:
On the left side of the search results page, click on the "Create alert" link, and follow the instructions to have alerts sent to you via email.
Customize Google Scholar on every computer you use:
Visit this guide for instructions on setting up your Google Scholar to search the UNMC collection, as well as how to add a link to each citation that allows you to import it into your RefWorks account. You will need to customize your Google Scholar every 3 weeks or so – Google doesn't permanently keep the customization. When you notice that the link to import to RefWorks is missing, that is your signal to go through the customization process again.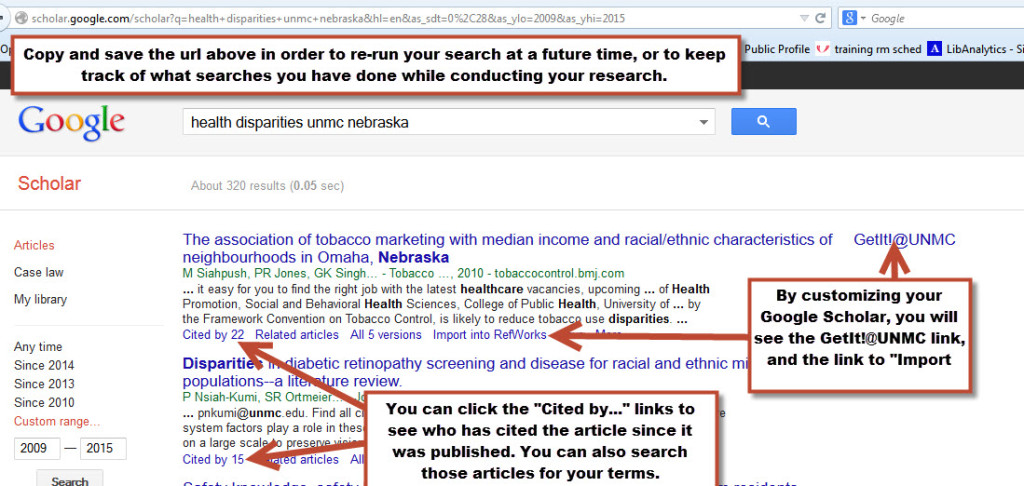 Teri Hartman (contributor)