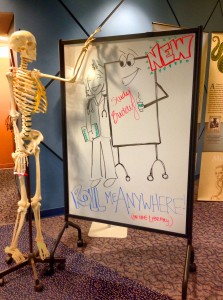 Students now have more freedom in the library to scribble, doodle, and notate. Just in time for the start of school, five rolling white boards are ready for student use. The boards stand over four feet high and offer 1900 square inches of writing space.
While the library is assessing its space (you'll notice all of our books and journals have been compressed to the stacks on 7th floor), these white boards afford flex space opportunities for students to turn exposed carrels and tables into private study spaces.
Three times larger than the boards that used to be available in the study rooms, these new boards are ideal for group study sessions as well.
So go ahead, roll them around to your favorite library nook or cranny. This is one study buddy you can rely on to help keep you organized this year.
By Dawn Wilson