Visit the 6th floor of Wittson Hall the week of April 8-14 and partake in several exciting events scheduled around National Library Week.  In celebration, McGoogan Library will sponsor Amnesty Week, an Open House, and a drawing for a Student Survival Kit.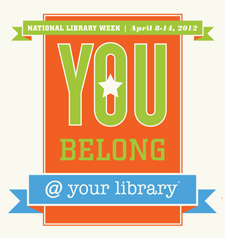 Amnesty Week
Do you have overdue books or late fees?  Come to the Library during National Library Week and the Circulation Staff will be happy to help you clean those smudges off your record.  Late fee forgiveness applies for fines up to $10.00.
Outreach Treats
UNMC students, including College of Nursing students at UNK, UNL, Scottsbluff, and Norfolk, and the College of Dentistry students at Lincoln will receive treats, keeping the students connected across the state and locally, even when they cannot physically make it to the Library.
Open House
 Join staff members on Wednesday, April 11 from 12:00 p.m. to 3:00 p.m. for a McGoogan Open House and grab a quick snack.  Staff on hand to answer questions include:
 Questions about the physical library? Talk to Rodney Cope, Head of Circulation
 Questions about hard-to-find articles? Talk to Heather Brown, Head of Interlibrary Loan
 Questions for the "Jane of all trades"?  Talk to Teresa Hartman, Head of Education
 Questions about ordering your dissertation?  Talk to Dorothy McCarthy, Administration
 Questions about books from 1492?  Talk to John Schleicher, Head of History of Medicine
 Questions about literature searches, Consumer Health, and RefWorks? Talk to Roxanne Cox, Head of Reference
Stop by to see the renovated Rare Book Rooms.  Look at historical texts and talk to our History of Medicine specialist.  Ask about exam prep materials, items your professors have placed on Reserve, RefWorks, and all those pressing Library-oriented questions that have always bugged you.
Student Survival Kit
 Sunday through Thursday, students are encouraged to visit the Library and enter a drawing for the Student Survival Kit.  The drawing will be held Friday, April 13.  The kit is chock full of student necessities: snacks, earplugs, a UNMC t-shirt, food certificates, travel mug, 8GB Flash Drive, 5 $3.00 food vouchers, and many other goodies.
Library Video Premiere
 The McGoogan Library "You Belong @ Your Library" video will premier.  The video showcases what the Library means to students and staff, their education and their careers.
Watch for yourself on the Library Facebook account and comment on what the Library means to you!
By Dawn Wilson, McGoogan Library of Medicine