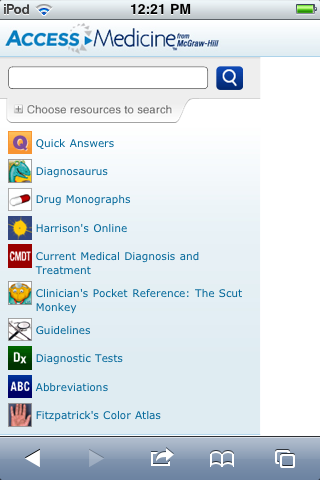 AccessMedicine now has a mobile interface for browsing and searching on your smartphone.
To access, you must create a person account:
Log into AccessMedicine through the library's website.
Click on My AccessMedicine, which is located to the far right on the dark blue menu bar.
Create a personal profile.
Once you have created the profile, with your username and password, you can now point your mobile browser to http://m.accessmedicine.com
Titles included in the mobile interface are:
Quick Answers
Diagnosaurus
Drug Monographs
Harrison's Online
Current Medical Diagnosis and Treatment
Clinician's Pocket Reference: The Scut Monkey
Guidelines
Diagnostic Tests
Abbreviations
Fitzpatrick's Color Atlas
The site is optimized for use on the iPhone, Android, and Blackberry Bold.