Content Distribution in the 21st Century: eBooks, Google, and Browsewraps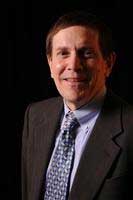 The McGoogan Library is sponsoring a presentation by Charles C. Valauskas, J.D., this Thursday, September 16th, from 8am-9:30am, in MSC 4053. Refreshments provided.
Mr. Valauskas serves as an advisor to UNeMed, UNMC's technology transfer and intellectual property partner. His presentation discusses the role universities have played in developing key tools that currently distribute content around the world, and the management of derivative rights, including copyright. It also discusses Google and the two major lawsuits over Google's scanning of some 12 million books; and browsewrap agreements – the most common form of electronic agreement in use, and whether or not they are enforceable.
Valauskas speaks regularly on technological and intellectual property issues. This is your chance to hear a real expert sort out some of the thorny issues surrounding the use of electronic media in education.
Charles C. Valauskas,J.D. is legal counsel to domestic and foreign companies, new ventures, universities and research foundations. A former adjunct professor for intellectual property matters, Mr. Valauskas is registered to practice before the U.S. Patent ant Trademark Office. He is co-author of two books on copyright, numerous legal publications, and his articles have appeared in the ABA Journal, the New York Times, and the Wall Street Journal. Mr. Valauskas is currently Vice President for Industry Relations for the Association of University Technology Managers and plays a leadership role in many licensing, technology, and intellectual property organizations Including the Licensing Executives Society, the Association of University Technology Managers, and the Intellectual Property Law Association of Chicago.