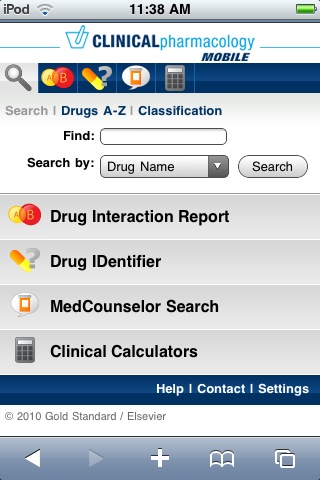 The library is pleased to announce that the drug reference Clinical Pharmacology now has a mobile accessible website. In the past, Clinical Pharmacology could only be downloaded onto a PDA. Now, with a data or wifi connection, you can access this comprehensive drug reference on your smartphone. You can access Clinical Pharmacology Mobile directly from its website or through the Mobile Resources page within the McGoogan Mobile website.
Like the PDA version, which is still available for Palm and Pocket PC devices, this version requires a promo code for activation. Please contact the Reference Desk at askus@unmc.edu or 559-6221 to obtain the code and instructions for registration. Codes are only available during Reference hours (M-F, 8-5) The codes expire each February, when the library's license renews, but new codes can be obtained.
Clinical Pharmacology Mobile allows you to access the following:
Drug monographs
Drug Interaction Report
Drug IDentifier
MedCounselor Search (patient education)
Clinical Calculators
UNMC faculty, students, and staff, as well as employees of The Nebraska Medical Center are eligible for promo codes.