MSR Career Fair



Saturday, April 11th, 2015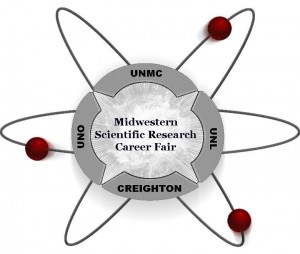 Participant Pre-Registration

 – 

CLOSED
Pre-registered Participants will have Priority Access to Lunch, Keynote Seating, and Breakout Session Seating
***On-Site Registration for Participants will be Available***
Employer/Recruiter Registration

 – 

CLOSED
—————————————————————————————————
Thank You to Our 2015 Event Sponsors:
Gold Sponsors:  UNL Association of Students of the University of Nebraska, UNMC Student Senate, UNL School of Natural Resources Graduate Student Association, Creighton Biomedical Sciences Department, UNMC Biomedical Research Training Program.
Silver Sponsors: UNMC Graduate Studies, UNO Graduate Studies
Bronze Sponsors: UNMC Eppley Cancer Research Graduate Program
—————————————————————————————————
EVENT INFORMATION:
The MSR Career Fair will be held on Saturday, April 11th in the Mike & Josie Harper Center Ballroom at Creighton University (Omaha, NE).  This multi-university event is to assist graduate and professional students from all disciplines to explore and pursue post-graduate work in the Midwest. Representatives from industry, academia, government entities, and alternative careers in science will  recruit possible candidates and publicize their career opportunities while also providing guidance on the future career aspirations of our fair participants.
—————————————————————————————————
REGISTRATION:
Fair participation is open to undergraduate and graduate students, post doctoral fellows, faculty members, lab personnel, and anyone interested in a post-graduate career.  All fair participants will receive FREE entry, a welcome packet containing information about each attending employer and recruiter.  Preregistered participants can enjoy a free lunch during the keynote address by Dr. Susan Carson, and have priority access during breakout sessions.
Employers will have hiring and informational booths to provide information to participants regarding their career opportunities. Registration is $50 per booth for all employers and recruiters.  Employer registration for 2015 is now closed.  Employers will receive a welcome pack containing demographic information on the fair participants and other career fair recruiters and up to two recruiters per booth be provided with both breakfast and lunch.
—————————————————————————————————
SPONSOR:
If you would like to sponsor our career fair, please click the SPONSORSHIP link above. All who give support to the will be recognized at the event; as well, your gift will positively impact the career aspirations of current and future graduate & professional students.
Fair Sponsor – < $100 – your organization would be recognized as a sponsor at the event seating and snack/refreshment tables along with recognition of your sponsorship within the welcome packet.
Bronze Sponsor – $100 – $249 – Your name and logo on the MSR Career Fair website, flyers, and all career fair marketing materials.
Silver Sponsor – $250 – $499 – Sponsorship mentioned at one of the MSR Career Fair workshops, advertisements on the website, flyers, marketing information, table flyers, and welcome packets.
Gold Sponsor – > $500 – Advertisement in all MSR Career Fair materials listed above along with mention of your individual sponsorship during the welcoming and concluding remarks of the career fair.

—————————————————————————————————
2014 Event Sponsors:
Creighton University Graduate Studies
UNMC Graduate Studies
UNMC Eppley Cancer Research Graduate Program
UNMC College of Public Health
—————————————————————————————————
This event is organized, supported, and made possible by the graduate students from UNMC, UNO, UNL, and Creighton University.