Gourmet Group Chairs:  Mary McBride, 402-397-0977 or rudymcbride@yahoo.com and
Ann Moore, 1-712-323-0362 or annmoorenz@gmail.com
The Gourmet group plans, prepares and enjoys delectable meals and has great fun doing it! Recipes sometimes challenge our palates and our culinary skills. The Group, couples as well as singles, meets 5-6 times per year in our homes. It is great fun to cook in someone else's kitchen and clean-up is a breeze with so many helping hands.  We welcome new members to spice up our group!  Continue to watch this site for our next cooking adventure.
SAVE THE DATE
On April 30th the Gourmet group will gather at 12013 North 178th Circle, Bennington, NE at an event hosted by Sharon and Mike Mendlick and Claudianna and Gordon Todd.  Recipes from the new prairie kitchen collection will be prepared and enjoyed by our members.  Watch for the selected recipes to be sent by email.  New prairie kitchen author Summer Miller and photographer Dana Damewood will be joining the group for this occasion.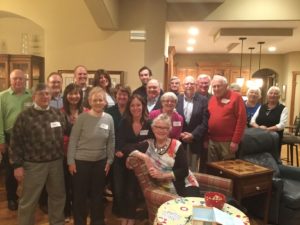 Lots of fun having Summer and Dana and their husbands as our guests.  Our menu incorporated recipes from their book.  The lives of farmers and the creativity of chef recipes became Summer's goal.  Summer developed their contributions into a family venue for all of us.  Dana found the photographer's artistic creativity to move us into  lives and foods.