Chairs for Fine Arts group:  Susan Mathers, 402-884-1514 or dhathers@cox.net and Mary Beth Gust (402-392-0716, wfgust@cox.net)
This group will meet whenever an opportunity arises that appears interesting.  Please stay connected to find out about each new opportunity.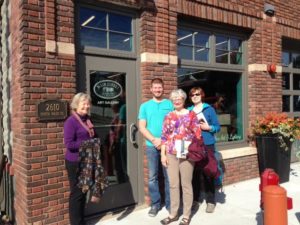 A delightful tour of the new Main Street Studios and Art Gallery in historical downtown Elkhorn was recently enjoyed by members of the Fine Arts group.  Talking to artist and owner (pictured with FWC members), Tyler Curnes, was informative and fun.  The wonderfully renovated 1912 tire store is now where Tyler and three other artists work.  Shopping in nearby stores and lunch at a favorite restaurant definitely added up to a "fine" time.