Chair for Book Club:  Janelle Davis, 402-397-8715 or lfdavis@cox.net
Book Club meets at noon on the second Wednesday of the month for lunch and discussion. Join us to read along even if you are not able to come for the discussion (or come for the discussion even if you have not read the book).
2015-16
BOOK LIST

September 9                           Istanbul Passage                                  Joseph Kanon             Hostess:  Sharon Mendlick
October 14                      The Invention of Wings                              Sue Monk Kidd
November 11                   Agents of a Lower Flight                        Susie Scott Krabacker
This month's selection is the story of one woman's mission to save a country……one child at a time.  The attendees found this book to be an inspiring message about how hope and opportunity can change the lives of an entire generation.
The following photos were taken at this month's book club discussion at the home of Marge Woodman.
FWC members pictured in the group photo are from left to right:  Claudianna Todd,  Mary Yonkers, Marge Woodman and Kay Bennett.
Pictured at the table is Dixie Lemon.
Watch for the luncheon recipe to appear as "a favorite recipe" soon.
December 9            Alice's Adventures in Wonderland                     Lewis Carroll
January 13                        The Husband's Secret                                 Liane Moriarty
February 10                        The Girl on the Train                                 Paula Hawkins
March 9                               Bettyville: A Memoir                                George Hodgman
April 13                                 Half a World Away                                  Cynthia Kadohata
Our special interest book club had its April meeting at the home of Joan Zimmerman.  The book, Half A World Away by Cynthia Kadohata, was reviewed by Cynthia Swanson.  Prior to the lively discussion, a delicious lunch was served. The recipe for the luncheon plate pictured below is found on our favorite recipes page.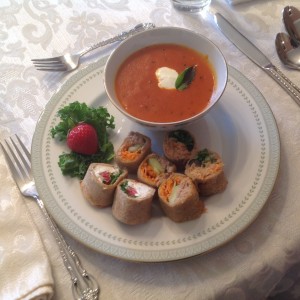 May 11                                    Prague Cemetery                                        Umberto Eco
June 8                           All the Light We Cannot See                             Anthony Doerr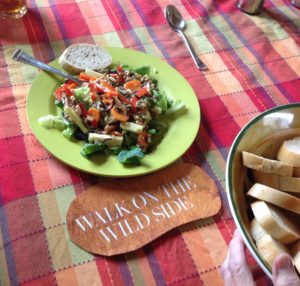 As you can plainly see, delicious and elegant luncheons are an important feature at our Book Club gatherings.
On June 8th the FWC Book Club met at the Bennington home of Sharon Mendlick.  The meeting was co-hosted by Cynthia Swanson and Janelle Davis.  All were treated to a delicious lunch featuring "Walk on the Wild Side" salad and Chocolate Pot de Creme dessert.  Following lunch Sharon Mendlick led a spirited discussion of the Pulitzer Prize winning All the Light We Cannot See by Anthony Doerr.
Plans for the coming year were discussed and the new book list will be forthcoming.  We have a great group and invite you to join us this fall.