We've all heard the phrase "There's no such thing as a free lunch." At UNMC, though, that's debatable. There's always something going on over the lunch hour, and most of the time, it's free. Sometimes lunch is even included, SO THERE, whoever came up with the above phrase.
Recently, I was able to attend not one, not two, but THREE lunch sessions in the same week in which I learned something I could take back to my desk. And I could have attended two more events, had they not been scheduled on the same day at the same time as others.
The first was the "Superwoman is a Myth" brown bag lecture hosted by the Olson Center on Tuesday. There I learned that woman tend to feel guilty if they can't do it all (can I get an amen?), while men tend to blame others (I'm quoting the speaker here, guys).
Sondra Dubas, owner and founder of Miracle Heart Books, was forced to stop running the rat race when her 6-year-old daughter, Ashley, suffered a stroke during surgery for a congenital heart defect. Ashley was born without a pulmonary valve in her heart. Prior to surgery, Dubas looked at it as another event on the calendar, something to get done and cross off her list. When things didn't go as planned, her life became only about her daughter and getting her better (Ashley's doing great now).
Dubas learned to say "no" to things that weren't important to her, focus on "being" rather than "doing" and live "on purpose." She stopped trying to be "superwoman" and instead became the best version of herself. She urged attendees not to wait for trauma to happen before doing the same.
Wednesday, I went to a Learn at Lunch put on by HR. Though it was titled "Uniting the Diverse," the speaker from White Rabbit Group focused on branding. While some still think of the UNMC brand as just our logo or the tagline "Breakthroughs for Life," Mike Wagner had a more open-ended definition.
Branding is "what people remember when they remember you," he said. He talked about the different kinds of brands: adversarial (think cell phone/cable companies), indifference (fast food restaurants), friendly, but tend to overpromise and under-deliver (car care, anyone?) and focused (where the company anticipates your wants and needs, like Zappos' surprise upgrade shipping feature).
While we in PR can do everything in our power to build our brand image, Wagner pointed out that the real brand of UNMC lies in the people – all the people. This, my friend, means you, too.
On Thursday, I'd signed up for a session titled "Running the Catch-Up-I-Don't-Have Enough-Time Race," also hosted by the Olson Center. How did I know this was something I needed to attend? Well, I showed up 15 minutes late, not realizing it started at 11:30 and not noon.
Jennifer Bartlett, a certified professional organizer, had our group draw how we spend our days on a pie chart. She then asked us to write down our priorities and see if the two matched up. Newsflash: They didn't, and I'm guessing yours don't always line up either.
I had on paper that my marriage and health are two of my top priorities, but in reality, I make little effort to schedule dates with my husband without our two rugrats in tow, and I don't think I have time for exercise even though I always find time for Facebook.
Bartlett then offered tips on how to marry the pie chart with the priority list by:
-using the "no" word;
-delegating;
-setting timers for activities;
-not compromising on sleep; and
-scheduling "me-time".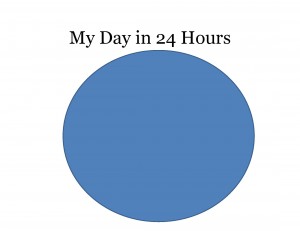 Since the session ended before I expected it to, I stopped down to the first floor of the DOC and briefly listened to "I, the Siren," an Omaha Chamber Music Society trio performing as part of the Music and Medicine series. It was a great way to cap off lunch hour, free of charge.
Check the UNMC calendar  to find out what's going on around campus over lunch hours and throughout the day.