The idea of modifying cars is not a new one. Just look at reality shows like "Trick My Truck."  But the concept of adapting toy cars for children with disabilities?
Now, that's novel.
That's exactly what happened at the Center for Healthy Living last month. Fifty area physical therapists broke out the power tools and listened to national early mobility expert Cole Galloway, Ph.D., from the University of Delaware show them how to turn "Power Wheels" into early versions of power wheelchairs.
First, the groups ripped off the steering wheels of six toy trucks and attached big red buttons in their place. Then, they added kill switches by drilling holes into the plastic near the license plates. Next, they added padded PVC pipe frames and finally, seatbelts. Last but not least, decal stickers made the Larry the Cable Guy character car come to life.
The cost: $89 for each car, plus supplies. The cost for a power wheelchair: somewhere in the neighborhood of $5,000-$20,000.
"Most adaptive equipment is considered medical equipment, therefore they don't sell very many and it drives up the cost," said Reggie Harbourne, Ph.D., associate professor of physical therapy at UNMC's Munroe-Meyer Institute and organizer of the workshop. "This is so easy, what do we have to lose?"
Physical therapists spent about an hour transforming the toy cars. Finally, the big moment: putting kids behind the wheel for a test drive.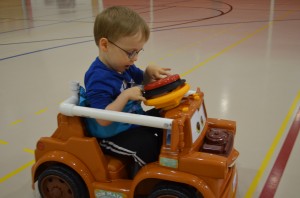 First up was 3-year-old Tyler Lundy, who has cerebral palsy. He was apprehensive at first. Much like a 16-year-old trying to drive a stick shift, his driving was herky-jerky at best. After a few tries, he put the red button to the floor and cruised off into the sunset (OK, it was more like the free throw line of the gym at three miles per hour, but very cute, nonetheless). Just when his parents saw their son growing up before their eyes, the car abruptly stopped. Tyler was crying. He couldn't see his mom anymore.
"They do tend to cry the first couple times," Dr. Harbourne said. "It's a lot of new information. The noise, the speed, and for some it may be the first time they've ever caused something to go."
But pretty soon, Tyler was back at it, showing off by using his chin to make the car go. He grinned like he was in a parade and even threw out some waves to the crowd of therapists.
Next up was Brandon. At just 11 months, he was the smallest of the children to try out the truck. Born prematurely, he is still learning to roll over. While an initial smile crossed his lips when he hit the gas, it wasn't long before he, too, was in tears.
His face said it all: "Where's my mom?"
The access to mobility for children who can't move on their own is beneficial in two ways, Dr. Harbourne said. It allows them to control their environment and, simply, to socialize. Just like adults who get something new and want to show it off to their friends, kids clamor to get close to TowMater or Mater, as he's known in the movie.
"Other kids Tyler's age normally don't want his toy; nobody wants a stroller. But with this, they'll come talk to him, and he can work on his social and language skills, too," Dr. Harbourne said.
Without mobility, kids with disabilities don't have much of a chance to create cause and effect, which helps them understand concepts like over, under, around and through.
"If children don't have the motor capacity to do things they cause the effect of, it can lead to delays in others area, like cognition or language. They don't learn by watching others do things," Dr. Harbourne said.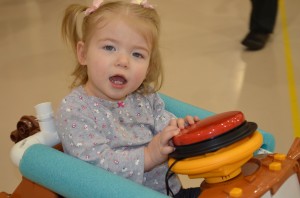 Parents can think of it this way. When kids knock their sippy cups off their highchairs, it's not because they're trying to annoy you (well, maybe a little), but rather because it helps them understand concepts like object permanence (Even if I drop this, it still comes back, again and again).
Tyler got the "cause and effect" message loud and clear. His parents were excited for him to take the car home.
"This is a great way for him to keep up with his peers," said his mom, Jennifer. "Just like any typical boy…he loves to go fast."