Yesterday was my 5-year anniversary at UNMC. I knew it was coming up, but when I received the congratulatory email, it sunk in. I've been here FIVE YEARS…doesn't seem like that long at all.
To celebrate, I thought it might be fun to share five of my favorite UNMC memories with you all. So, come, take a walk down memory lane with me.
2008 – My first day.
My first day on the job was the same day as a press conference to announce the naming of the Home Instead Center for Successful Aging. It was exciting to see firsthand how much work (and stress) goes into events like this. I knew instantly I was in the right place for me. Tom O'Connor introduced me to the Chancellor Maurer after the press conference. It was only 11 o'clock in the morning and already it was the best first day of work I could've asked for.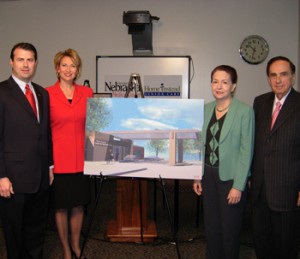 Runner Up – My second day. This was the day Tom O'Connor took me with him on a media escort. I quickly learned two things: 1) This campus is massive. 2) Flats are your friends. High heels are not.
2009 – The day we launched the brand.
Some people think of this as "the day we changed the logo." It was and is so much more than that. When I think back to the day we unveiled not only our new look, but who we are and what we're all about, I remember all the people who gathered on the Swanson Hall lawn to take pride in UNMC. It was special.
Runner Up – The first time I attended Santa's visit to the Munroe-Meyer Institute.
This annual event holds a special place in my heart. It's so moving to see the children and adults with disabilities embrace the holiday spirit in such a pure way. The things they say will definitely make you laugh and sometimes always make me cry.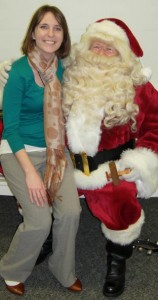 2010 – Push-Ups for Haiti
For those of you who were there, this is probably one of your all-time favorite UNMC memories, too. The event, organized by my friend Chuck Brown, didn't involve any brainstorming sessions or weeks of planning. It was an idea that came from the heart and brought faculty, students, researchers, employees and everyone in between together in a time of tragedy. Not to mention it raised almost $9,000.
Runner Up – Coming back to work after my daughter was born.
It's downright difficult to return to any job after maternity leave, but because I knew I was coming back to a job I love and co-workers who are like family, it was much easier. Plus, I needed somebody to show off all those baby pictures to.
2011 – My first Match Day
It was St. Patrick's Day and everyone was dressed in green. I got to sit in the front row and record the reactions of fourth year med students as they found out where they'd do their residencies. I felt like the mother of 109 children.
Runner Up – Joining LiveGreen
Sustainability is one of my passions and I really value the fact that I get to use my skill set as a PR person to help us improve upon it as a campus.
2012 – My day with Dr. Luckey
My day spent following a family practice doctor around in David City was the most exhausting, yet exhilarating day in my career here. It provided me with a newfound respect for those in medicine as well as the inventor of tennis shoes.
Runner Up – Student Orientation
Seeing our first-year students so full of hope and promise left me remembering what it was like to be their age. I'm so glad all of them chose UNMC. The McKayla Maroney impressions contest made for some good laughs too.
That's it from me. Now I want to know YOUR favorite UNMC memories. Send me an e-mail at nlindquist@unmc.edu with a short description and a photo if you have it. If I get enough submissions, I'll do a follow-up blog post. Happy remembering!