Even though I'm a writer, I have no words for what happened in Newtown, Conn., last Friday. What I do know is that the first thing I thought of when I heard the news, probably like many of you, was my family. How much they mean to me. And how quickly all that can be taken away. I have a husband, a 2-year-old daughter and another baby on the way. But they are not my only family.
During the week, I spend just as much time at work as I do at home, not counting when I'm asleep of course. Five days a week for the past five years, I've been greeted by the same faces when I arrive at 8 a.m. each day. So it's no surprise that my co-workers are like family members to me. Just as I'm sure yours are to you.
Sure, there might be a "Crazy Uncle Eddie" or a weird cousin, but at the end of the day they're still family. And I wanted to take this opportunity to tell my second family how much they mean to me. I encourage anyone else reading this to do the same. Sort of a "happy holidays/pay it forward" project if you will. You could send a quick e-mail or please feel free to write something in the comments below and send them a link to this story.
Without further ado, I'll get to it.
Bill: I've never had a boss who asked a question about my personal life and actually cared about the answer until I met Bill. Also, my daughter is in love with his son, Jack, so this "work family thing" could be an "actual family thing" if she has it her way. 🙂
Chuck: Not everyone gets to work with a comedian. I feel fortunate to have Chuck as a friend who makes me laugh out loud on a daily basis. And yes, Chuck, you kind of are the Crazy Uncle Eddie.
Dawn: Dawn is fairly new to the family, and I'm still getting to know her, but I think the best compliment I can give her it to tell her she's "vital" to us.
Jake: It's always great to have a reminder of your youth in the office. Jake's ability to eat fast food at any time of the day and be up at odd hours keeps us all young.
Jessica: Jessica is someone we should all strive to be more like. I really respect and admire her work ethic, but am most moved by her kindness to others.
Jo: I love swapping kid stories with Jo. Our children were born just two months apart and she is truly an amazing mom.
Julie: This woman makes the world's best brownies. I couldn't help but break the news to my stepmom once. Honestly, I want to nominate them for Guinness.
Kacie: My running buddy. Thankfully, Kacie is able to talk when she runs, so our jogs on Field Club Trail are a lot less boring. She also knows how to spice up a photo. Here's us at the Color Run last summer.
Kalani: Without him, I wouldn't be able to keep this blog going. I envy his writing style and am just glad he didn't apply for the opening I did five years ago!
Karen: If you need a good book recommendation, or just an article that will make you cry, Karen is your supplier. She's also a fabulous listener who manages to look like this after a half-marathon.
Lisa M.G. My fellow pet-lover. When we thought we might have to put my dog down last year, Lisa was the one I turned to. Her support got me through that tough time.
Lisa S. Most holidays, I get a text message from Lisa telling me "Happy Thanksgiving" or what not. A lot of my friends send mass texts like this, but Lisa's reminds me to give my daughter a hug for her, so I know she wrote it just to me.
Liz: She asked the toughest questions during my interview here five years ago, but Liz has the softest heart. Here's the hat she knitted for my daughter that came with a matching blanket.
Mary: This is a woman who never stops smiling. Every day when I enter the office, she's got a grin for me and everyone. All employees on campus should be so lucky.
Ryan: During the Spirit Week scavenger hunt, this pregnant lady on our team was getting really hungry, almost to the point of low blood sugar. Ryan zoomed into a building and up a flight of stairs to get her a candy bar. That girl was me. Thanks, Ryan. And yes, you're the weird cousin. Kidding!
Stacie: Not only did Stacie orchestrate the picture that makes me crack up every time I look at it, she also brought me back the sweetest souvenir scarf from her trip to China.
Tom O'Connor: Tom would probably prefer I use this space to promote the Omaha Press Club, but I gotta tell him how much he's taught me about PR and just being a good friend.  And thanks for always rooting for my Cyclones Tom O!
Tom Waples: Not only is Tom a professional designer (whom I credit with my last year's Christmas letter) he also has a knack for guessing the size of a pregnant woman's stomach with caution tape.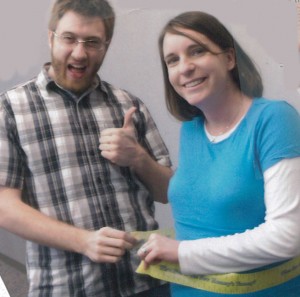 Vicky: Vicky's done many things for me over the years here, but giving me a Prilosec before our office holiday party so I could eat the Cheesy Irish fries at Barrett's is the most recent.
So that's my work family. Aren't they great? I couldn't have asked for a better one if I hand-picked them myself. Hope you all have a very happy holiday. Please consider telling someone in your work family how much they mean to you!