Robert Binhammer, Ph.D., had started to sweat and it wasn't because of his red, green and white holiday sweater.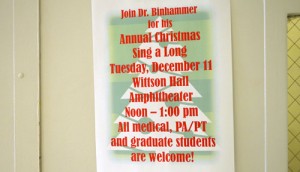 The legendary anatomy professor was on edge because it was 11:59 a.m. on Tuesday – one minute before the annual Wittson Hall holiday carol event that Dr. Binhammer has led for decades – and the student who volunteered to provide piano accompaniment had yet to appear.
As more than 100 students settled into the Wittson Hall Amphitheater seats, cookies and sodas in hand, ready to sing their hearts out, Dr. Binhammer pondered a piano-less carol session.
"We've never done it a cappella before," Dr. Binhammer said. "We've had some bad accompaniment, but never no accompaniment."
In the St. Nick of time
But right at the strike of noon, the student and some others walked in the door with a Yamaha keyboard and a Marshal guitar amplifier.
"We really need the music," said Gordon Todd, Ph.D., professor of cell biology and anatomy. "Some of the songs he picks are not-that-well-known.
"It really helps to have the music."
A holiday tradition
The carol session started on campus more than 30 years ago with the then anatomy department director, Dr. Kenneth Metcalf. Dr. Binhammer continued the tradition when Dr. Metcalf left.
"We just think it's a nice thing to do, a diversion at the end of the term," Dr. Todd said.
All together now!
After about 10 minutes, the pianist finally was set up and Dr. Binhammer called for the first tune, "Deck the Halls," and they were off.
"There are some good singers this year," a UNMC staff member noted as another nodded.
They rolled through song after song – often just singing a verse, but sometimes, when it struck him to do so, Dr. Binhammer would shout out, "one more verse!"  The students would laugh then oblige.
From the bottom of their hearts!
"This one never goes well," someone said just before the group started "Feliz Navidad."
And it didn't.
To start with anyway.
But after some butchered Spanish and oddly sung lines, the student voices came together in the refrain.
"I want to wish you a merry Christmas, from the bottom of my heart!" They sang in a way that sounded nearly rehearsed.
Something for everyone
They sang nearly 30 carols – at least parts of them anyway.
Among the selections was "The 12 Days of Med School," in which the names of several anatomy and College of Medicine faculty were evoked by students who were given, among other things, three germy layers, two rubber gloves and "five hours of sleep!"
A holiday torch to pass
Dr. Binhammer officially retired this year but continues to work for free – which is another story that we'll tell another day very soon. But the time when he won't be here to lead the carols is on the horizon.
When asked if he'd pick up the torch when Dr. Binhammer steps away, Dr. Todd shook his head quickly.
"I can't sing a note," he said. "It will have to be someone with actual musical ability."