They wear winning smiles, dress shirts, ties, skirts and pumps.
They sit across from one another in a brightly lit room and cram a lifetime of experiences into nine minutes.
Medical school. Residency. Family. Daily roles and responsibilities.
Suddenly, a brass handbell rings to signal the "date" is over.
They linger to learn all they can, offer a quick handshake and dash off in search of the perfect match.
Career match, that is.
The Sorrell Center was the recent site of "Speed Dating for Medical Students," hosted by Metro Omaha Medical Society (MOMS), in partnership with the UNMC American Medical Association Student Chapter.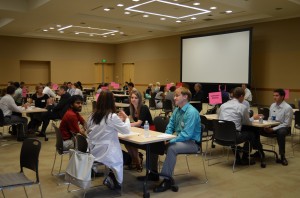 For 60 minutes, more than 30 UNMC medical students rotated through 15 specialties in search of a perfect career match. Psychiatry. Anesthesiology. Emergency Medicine. Family Medicine. Ophthalmology. Orthopaedic Surgery. Pediatrics….
Physicians from each area met with rising physicians to answer questions and share insights into their chosen fields. In the past four years, more than 300 UNMC and Creighton University students – and 100 area physicians — have participated in the MOMS' "speed dating" sessions.
With each ring of the bell, the room buzzed anew:
"What do you do each day?" "Is this a field where you can balance family life?" "What's the job market like?" "Did you always know you wanted to be a (insert medical field)?"
And, with each ring of the bell, students learned how those before them found their passion:
"I wanted to get to know patients on a deeper level." "The beauty of medicine is there are so many specialties." "You need to ask yourself: Do you like procedures? Do you want a continuity of care?"
"When you love what you do you never really have to go to work," said orthopaedic surgeon Curtis Hartman, M.D. "I don't mind going to work."
Wow, thought Spencer Gallner, a second-year medical student. "I wish I could find something like that."
In time.
After all, there's only so much you can tell after just one date.