Midwestern Scientific Research Career Fair



April 11th, 2015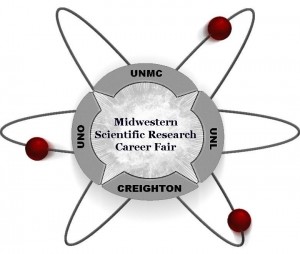 —————————————————————————————————
Thank You to Our 2015 Event Sponsors:
UNMC Graduate Studies
—————————————————————————————————
The Midwestern Scientific Research Career Fair (MSRCF) will be held on April 11th in the Mike & Josie Harper Center Ballroom at Creighton University (Omaha, NE).  This multi-university event is planned by researchers, for researchers. Representatives from industry, academia, government entities, and alternative careers in science will guide the future career aspirations of our fair participants while publicizing their career opportunities and recruiting possible candidates.
—————————————————————————————————
REGISTRATION:
Fair participation is open to undergraduate and graduate student, post doctoral fellows, faculty members, lab personnel, and anyone interested in a career in science.  All fair participants will receive FREE entry, a welcome packet containing information about each vendor, plus enjoy refreshments and snacks.
Recruiters will host booths and provide information regarding their career opportunities and their contributions to science and/or research. Registration is FREE for all types of vendors until January 16th, thereafter there will be a $50 registration fee.
—————————————————————————————————
DONATIONS:
If you would like to donate toward our career fair, please click the DONATE link. All who show their generous support will be recognized at the event. Your gift will positively impact the career aspirations of current and future scientific researchers.
—————————————————————————————————
2014 Event Sponsors:
Creighton University Graduate Studies
UNMC Graduate Studies
UNMC Eppley Cancer Research Graduate Program
UNMC College of Public Health
—————————————————————————————————
This event is organized, supported, and made possible by the graduate student from UNMC, UNO, UNL, and Creighton University.