Below are pictures from the UNMC Faculty Women's Club Luncheon and Installation, held Wednesday, May 21, at the Oak Hills Country Club.
The officers pictured from left to right:  Joni Stinson, president-elect; Dr. Pat Leuschen; president; Margery Woodman, outgoing president and advisor; Sara Crouse, treasurer; and Sharon Mendlick, secretary.
Faculty Women's Club holds monthly luncheon meetings with a variety of interesting speakers and presentations.
Remembrance Fund
When a friend is ill, when loved ones are bereaved, to celebrate a special event or honor someone's life, why not send your tax-deductible contribution in any amount to the Corresponding Secretary? She will send a note informing the party you want remembered of your gift in his/her name and will send an acknowledgement to you. One hundred percent of funds received in the Remembrance Fund are added to FWC's contribution to UNMC's Scholarship Fund.
SCHOLARSHIPS
Profits from the sale of UNMC notecards go into the Scholarship Fund which provides yearly scholarships for students in all Colleges at the University of Nebraska.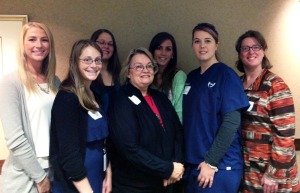 UNMC Faculty Women's Club Scholarship recipients were honored at a recent luncheon. Picture above are five of the nine recipients: Erica Jasa, College of Dentistry; Heather Talbot, Graduate Studies; Susan Hageman, College of Medicine; Dr. Pat Leuschen (retired), FWC President; Alexandra Dugan, College of Pharmacy; Charlene Vance, Allied Health; and Dr. Mary Gallagher-Jansen, Internal Medicine and FWC Executive Board Member.  Dr. Leuschen estimates that approximately $250,000 supporting student scholarship has been contributed over the years by the organization. Recipients not pictured: Morgan Mowrey, Dental Hygiene; Jacquelyn Ryan, Nursing; Allison Anderson, Nursing; and Bianca Christensen, Public Health.