There are lots of reasons people don't get flu shots.
Reason #1: Because one time, their second cousin's Grandma's mailman got the flu from the flu shot.  As UNMC's infectious disease specialist Dr. Mark Rupp will tell you, this is one of many flu shot fables. Consider Dr. Rupp one of these guys:
And Reason #2 through lots: Needles = Painful. Therefore, no thanks!
Well, there just might be something that can help with that. Two years ago, a group of UNMC pediatricians and psychologists from the Munroe-Meyer Institute published a study in Pediatrics about the "cough trick."
Basically, they showed that if a child coughs just as the needle goes into his or her arm, it doesn't hurt as much. Researchers weren't sure if it worked because of the distraction factor or if the act of coughing somehow affected pain sensation.
I decided to test this theory out, you know, in the name of science. That, and I had to get my flu shot anyway.
Thankfully, a co-worker of mine also needed to get her flu shot and offered to take my picture while I attempted the cough trick technique.
When we arrived at the lower Storz Pavillion, the line looked longer than  the one for the ladies restroom at a Celine Dion concert, but before we knew it, we were at the front. Without even trying, I'd worn something to which my arm was easily accessible, an important thing to remember on flu shot day.
The College of Nursing student scanned my badge, counted to three and stuck the needle in just as I coughed and my co-worker snapped this picture.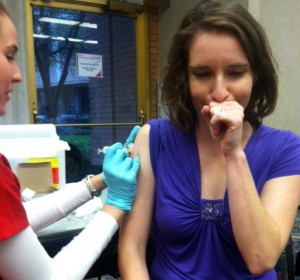 The verdict: painless. But I probably should have had her give me a shot in the other arm to make sure it was due to the cough trick. This is why I leave research to the pros.
Honestly, the coughing part did distract me. But so did having my photo taken during my flu shot and thus looking like a dork.
In conclusion, it doesn't hurt (pun intended) to give the cough trick a try.
Researchers at UNMC like to tout the odd jobs they held before they became academic elites. Forklift operator. Punk rocker.
James Haorah, Ph.D., associate professor in the department of pharmacology and experimental neuroscience, was a buffalo herder.
In the remote Ukhrul district (you can't even find his home village, Khamasom, on Google maps) of northeast India, he was a full-fledged cowboy when he was just a little kid.
The places they'd go …
"It's a very sweet memory," Dr. Haorah said.
He'd take the herd through the jungle overnight. Picture him at 8 or 9 riding the biggest buffalo, commanding the herd. "Go this side or go that side," Dr. Haorah said. "Just whistle it. They understand."
One night he was in thick forest, a little boy, alone. All of a sudden, in the darkness, the herd started moving. Something was out there. A tiger?
Afraid, defiant, the boy wielded a torch and a knife. But the herd circled its young, and the big buffaloes wouldn't let him out.
"They were protecting me," he said.
Sure enough, the next morning, his dad, a hunter, came across tiger tracks. And then the carcass of a young buffalo, eaten.
And that's when Dr. Haorah's dad did something that just wasn't done. "That's when he got so very mad that he challenged the tiger," Dr. Haorah said.
He yelled out, to the jungle: "He was saying, Why do you come and eat my baby buffalo? If you want to attack me, just come to me face to face. That's it. Let's fight it out."
"As a young kid …" Dr. Haorah said. Seeing that …
But then the frightening episode turned into a fatherly memory. Don't worry, his dad said. He won't hurt you.
His dad was always saying that if you were wrong in life, a pinprick could kill you. But if you do the right thing, if you are a good person, not even a bullet can kill you.
Not even a tiger.
Now, he lives a world away, and there are no tigers in the night. But his father is still with him, in those words. At all times, he tries to remember: "Whatever I do, do it in the right way. And not in the wrong way.
"If I'm on the wrong side," Dr. Haorah said, "that's where I'm going to fall."