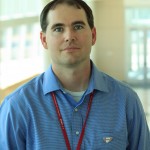 Matt Fitzgerald, BA, has taken over as Administrative Research Coordinator in the School. Matt received his bachelor's degree in Biology in 2001 from the University of Northern Iowa and worked at the University of Iowa for over ten years doing research in molecular oncology and radiation biology. He joined UNMC in the Department of Surgery in 2012 as a research coordinator, and now we're happy to welcome him to the Allied Health family.
Matt moved to Omaha with his wife, Melissa, who is an assistant professor in the Department of Biochemistry and Molecular Biology. He loves fishing, kayaking and birding.
Glad to have you, Matt!